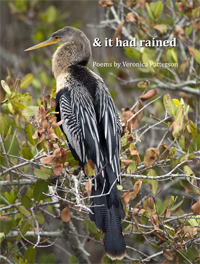 & it had rained
Poems by Veronica Patterson

ISBN: 978-1625490179
WordTech Communications $17.00

The rapid-fire rhythms in Veronica Patterson's & IT HAD RAINED, charged with the lyricism of poetry and the ruminative strides of prose paragraphs, enlarge the reader's awareness of the world: bird, wings, rain, water.

Praise for Veronica Patterson's Previous Work:

"What I like about [Patterson's work] is how naturally it makes its moves. As the story opens, the dreaming speaker is drawn into an alley strewn with flowers and fruit, which . . . creates a sense of the forthcoming abundance . . . From this beginning, the poet journeys outward to her mother as a thousand-faced cup, to her father as a red-haired boy, to the samovar of a great-aunt, who 'died of having lived. I can only congratulate the poet on a fine, heartfelt, delicate work."
—Lola Haskins

"Characterized by remarkable invention and wit, in rare combination with philosophical depth and genuine feeling, [Patterson's work] . . . deserves wide circulation."
—Lenard Trawick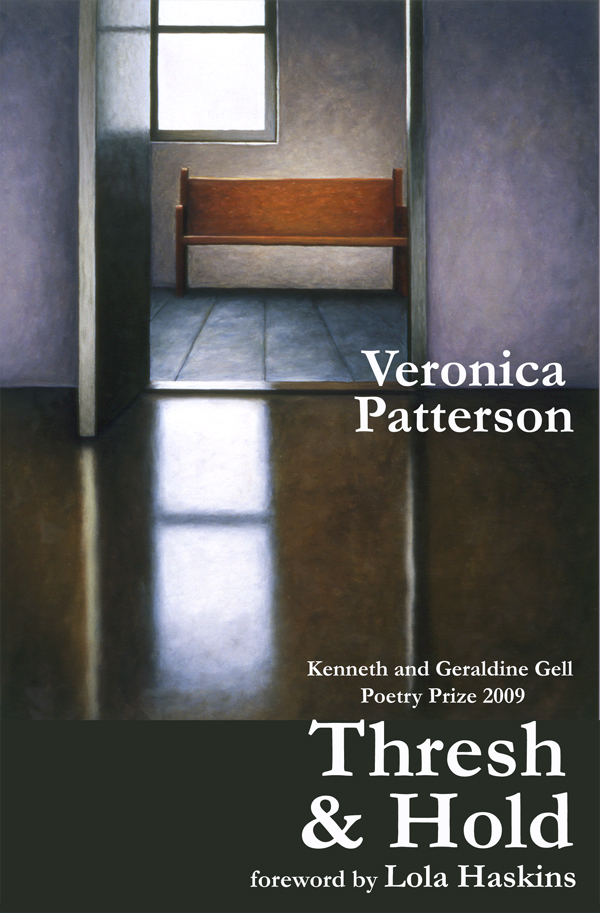 Cover art by
Susan Bennerstrom
Thresh & Hold
Poems by Veronica Patterson

Winner of the 2009 Gell Prize for Poetry

ISBN 978-0-9819018-3-1
Big Pencil Press $15.95
Click Here to Purchase

From the introduction by poet Lola Haskins, who selected the book for the prize:

"What I like about Thresh & Hold is how naturally it makes its moves. As the story opens, the dreaming speaker is drawn into an alley strewn with flowers and fruit, which ... creates a sense of the forthcoming abundance ..."

"From this beginning, the poet journeys outward to her mother as a thousand-faced cup, to her father as a red-haired boy, to the samovar of a great-aunt, who 'died of having lived.'"

"I can only congratulate the poet on a fine, heartfelt, delicate work."
From Thresh & Hold . . .
Retriever
The sleek wet head of a dog bobbing—no—
pulsing forward, wake not smooth
as a muskrat's V, the dog
not quite dolphin except in glee,
draws me to water. The world has
so many seams—this dog slips me
back to ideas about rapture
and longing—no—not ideas, but skin
and sun and buoyancy, smell of water,
algae, trace of oil, fish. Where are the borders
I count on between this day and another
dog, swimming for a stick thrown into the lake,
simplified head just above the surface,
ears plastered back as if gills.
Four children laughing
call the collie "Ralph, Ralph Beauregard,
Ralph Beauregard Bugleboy," but he will not stop
leaping into Cayuga Lake. Stick into water,
dog swimming, stick again, dog again, stick, dog,
throw and fetch in exuberant cahoots, just as
one day plots with another, now-me
with then-me keen for a stick
she—no—I want to throw, and a dog
to carry it back like news, to a shore
where he begs to go again. The heft of it,
stick or childhood, the retrieval. The sheen
and effort—no—all sheen. Wet stick
that has never broken—soaked, arcing
into the air, who's going, who's
going into the buoyant day?
—"Retriever" was published in Southern Poetry Review and selected for its 50th year anthology, Don't Leave Hungry.